Dorm Decor
Everything you need to create the perfect home away from home. 
Design Today
Book a Showroom or Zoom/FaceTime Appointment
A specialized experience to get you college ready
Click Here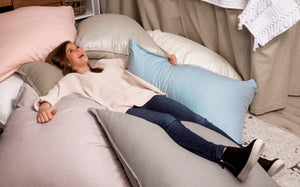 Huge Dutch Euros
Bigger than your average pillow. Perfect for lying, layering, and lounging.
Shop Dutch Euros
Testimonials
Dorm Decor had everything I needed for my dorm, and they made styling my room from out of state so easy!!

Valerie C.
Dorm Decor has the cutest and most stylish decorations that not only help you have a functional dorm, but one that is unique to your style!

Caroline C.
I absolutely love this company. My roommate and I are planning on matching everything from here! Great quality and overall makes college a little less stressful!

Liv O.
How To's
Dorm Room Set-Up
Learn how to assemble our bed cubby, how our bed skirts work, and more
CLICK HERE